Well We have been hacked!!!!

And our host has lock the server 100% Down!
They was so nice to give us access the owe files but i can't set the server to start. I can get the website up "dam-it I had it at 98% ready"
So here was will happen next. This will be the new site for 3-7 Weeks I will work a little bit on here and treat it like a blog updating you all and what going on...

Sorry for any inconveniences this may cost!!!

---
read what going on now here on the BLOG!!!

---
If you would like to see someing cool the button below will take you to the old website the one before the froms!

---
Powered by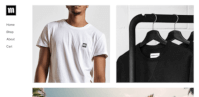 Create your own unique website with customizable templates.